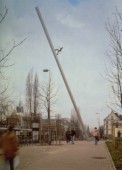 A2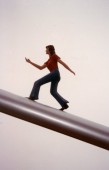 A3
Location: Strasbourg, France
Size: 80 Feet

Woman Walking To The Sky was completed soon after Man Walking To The Sky. Since Strasbourg is near Kassel, there was some hope on my part to line up the invisible trajectories of these two poles as they rose up into the sky - a sort of inter-country installation. Ultimately, I couldn't work this out.

When modeling this woman in clay, I asked some female friends what they would prefer to be wearing if they were walking up this pole. Almost all of them answered pants or jeans, and therefore that is how this woman ended up. However, in retrospect, I think I would have preferred to put a dress on this woman, possibly to more clearly differentiate between the male and female figures.