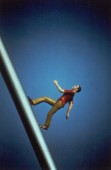 A2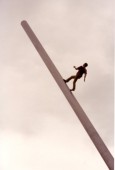 A3
Location: Kassel, Germany
Size: 80 Feet

This 80 foot steel and fiberglass sculpture was first shown at Documenta IX, in Kassel, Germany, 1990. But, the idea for this sculpture, no doubt reaches back into my childhood. When I was six years old, I used to sit on my father's knee, and he would tell me stories about a friendly giant who lived in the sky. The important thing about this giant was that he did good things for people. In his stories, my father and I used to go up to the sky and visit with this friendly giant every day.

For this sculpture, I first carved a life-size figure in clay (it looks a bit like me) and then it was cast in fiberglass. The 80 foot steel pole rises up out of the earth at a 60-degree angle.

After the Documenta exhibition, the city of Kassel bought the sculpture. They asked me where I would like to have it placed. I suggested a beautiful park site just outside the city on a mountaintop that overlooked the whole region. I thought it would be a nice ride for people - to get out of the city and to visit this beautiful site. However, city officials finally chose to place this sculpture near the middle of town where it could be seen more often. Of course I understand this, but what is unfortunate, is when the sculpture was reinstalled, the foundation bolts and connecting plates were left visible above ground. As I've already mentioned, the pole and the figure both were meant to have the feeling of rising up directly and "cleanly" out of the earth, directly to the sky. These unsightly bolts, as well as the unattractive decorative triangle of white stones, now at the base of the pole are an unfortunate addition to the sculpture. Since I did not go to Kassel for this new installation, it is a good lesson for me to be very specific about my ideas in the future.